Tim Masthay, Jeremy Ross, "Fanatics", and Context
fanatic [fuh-nah-tik] (n 1. a person whose uncritical enthusiasm or zeal for something is beyond normal limits, such as poliitcs or religion.
fanatic [fuh-nah-tik] (n 1. a person whose uncritical enthusiasm or zeal for something is beyond normal limits, such as poliitcs or religion.
It's a good time to be a Packer fanatic, for sure. After two consecutive weeks of blowout football, Packers fans can swagger when they enter a room and see someone with a Bear or Viking jacket on. We eagerly await the next week's game, fully anticipating another shellacking of whatever poor schmucks have drawn Mr.Rodgers and his Neighborhood Watch on the schedule.
For most Packer fans, the fervor may actually exceed the devotion we normally expect for politics and religion. After all, no matter your political leanings or religious beliefs, we all still buy Aaron Rodgers' jersey, and wear it in honor and tribute of our honored hero. We follow them around to malls around the state, paying big bucks for a picture with them or a scratching of a signature on a photo or mini-helmet. We tune in to television shows, radio show, and podcasts dedicated to simply talking about the team. 
And, we name streets and even schools after coaches and players--an honor once reserved for our greatest of Presidents of the United States.
Perhaps, though, at the height of one of our rises of fan support, this is the time to broach the subject that we don't necessarily meet the definition of "fanatics". A fanatic implies, such as in politics or religion, an unwavering support for your cause: never critical or even questioning the authority, defending them relentlessly in the face of even the slightest criticism.
A quick rewind back to Week 3 this season, and I don't think you would find across-the-board "unwavering, unquestioned support" for the team, and especially certain players and coaches. 
#firecapers
No, our fandom isn't quite the definition of people who are "fanatics" - people so beholden to their beliefs that they will never question them. In fact, no one appears to question every decision more than the fan base themselves--at least when the team isn't doing as well. We second-guess fourth-down strategies, dissect what went wrong on any given play with slow-motion video, and call for  cuts and firings out of anger and frustration.
Could you imagine religious or political fanatics questioning the authority infrastructure of their own belief systems like that?
So, maybe, we aren't "fanatics" at all, even if that's where the term "fan" was stolen from. "Passionate" might be the better term.  And sometimes, "irrational" might even be better. 
A few months ago, Aaron Rodgers had to tell the fan base to R-E-L-A-X. Just a few years ago (at nearly the same point in the season), he told his critics to "Shhhhhhh".
In the end, its an interesting dance: fans support the Packers--the green and the gold. If you don't perform to expectations, you become worthless, open to criticism, shame, mocking, and calls for your job. If you exceed expectations, you are treated as a god, with streets named after you and golden statues built in your honor.
Which brings me back to the curious case of Jeremy Ross, the young punt returner who made a mistake at the wrong time, and became the target of the criticism, shame, mocking, and calls for his job. Contrast that to Tim Masthay, who made a mistake, apparently, at the right time.
I am always amused at the reactions of Packer fans who seem bothered when they see that Ross's career has ascended in Detroit, becoming reliable weapon in the return game and even contributing in the offense. His punt return average since leaving Green Bay is over ten yards per return. His kickoff return average is well over twenty yards per return. He's scored a touchdown in both venues, and is among the specialists in the conversation for Pro Bowl consideration.
On top of that, he's developing into a Mel Grey/Desmond Howard-esque threat every time he touches the ball, earning accolades through the league for his aggressive style. Last week, he had a fantastic heads-up return called back on a controversial call that I still don't see anything wrong with.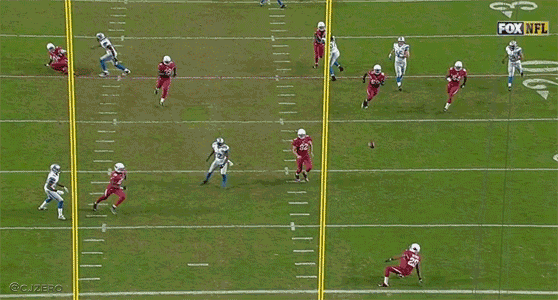 The NFL has spent a lot of time explaining why this return was called back this week, and perhaps for good reason. In the end, Ross was unfettered and made the play despite the risks involved--something we ask of players who drop back to pass, take the ball on a running play, rush the quarterback, or make a play on the ball. 
But this isn't the Jeremy Ross that many Packers fans choose to remember. They can think of little else besides this moment in a playoff game during the 2012 season.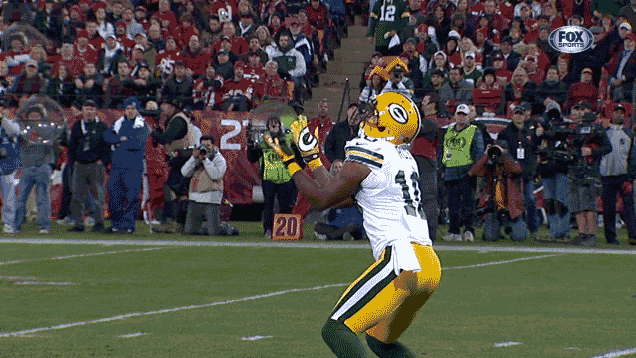 Sure, it was an important point in the game, setting up a Michael Crabtree touchdown that tied the game. But, it was a mistake made by one player at one point in a 60-minute game. People tend to forget that Randall Cobb was returning kickoffs that day, and muffed two of them. No, they didn't lead to turnovers, but it was the same mistake made by Ross. Twice.
Colin Kaepernick ran for 181 yards in that game. No, he didn't pass for 181 yards, he RAN for 181 yards. There was plenty of blame to go around in that game. But Ross was made the scapegoat, because it was a mistake made at the wrong time.
Context
I keep hearing the word "context" when I bring up a glaring mistake made by another Packer player versus the one committed by Ross a few seasons ago. For example, Tim Masthay's mistakes last week were just as glaring, and could have been equally as disasterous in a close game. Masthay's muff of the hold on an extra point led to one of two extra points not being successful last week--unheard of in today's NFL. His blocked punt late in the game set the Eagles up on the Packers' five yard line: almost the exact situation that Ross's muffed punt put the 49ers in a few years ago.
The Eagles didn't score on that short drive, choosing to go for it on 4th-and-goal down by 33 points. But what if they had been down by 3 point, instead? Is this the "context" we're talking about? 
You see, there was a feeling of overall "whatever" from the Packer faithful following Masthay's miscues last week. It's a lot easier to be forgiving when you're up five touchdowns and covered every spread imaginable. It's also easy to be forgiving when it isn't a pressure situation. 
But the reality is that neither mistake is worse than the other. The muff on the extra point subtracted a point from the Packers' score. The other miss (whether it be Mason Crosby's fault or Tim Masthay's) was another point not on the scoreboard. And in a tight game, that blocked punt could have meant overtime, or even a loss that late in the game with just a chip-shot field goal.
But it wasn't a tight game, so it was okay to make those mistakes. Conversely, Ross made a mistake in a high-pressure situation in a tight playoff game. According to Packer fans, even though that muffed return led to the 49ers tying up the game in the second quarter, it was Ross's fault that the Packers lost all their momentum for the rest of the game.
Harsh.
If you've followed the news this week, you know that Tim Masthay has beat himself up over his miscues far more than the fanbase has held him accountable for. Poor Jeremy Ross had to suffer through the scapegoating through the entire offseason, training camp, and preseason, with the pressure clearly getting to him. He could make one more mistake, or he'd be led out of town on a rail, with pitchforks and torches following him.
And you know what happens when you desperately try not to make a mistake: you make a mistake. Ross muffed one more point, the fan base howled, and Ross was cut.
Looking at the animation of the Cardinals game last week above, I think its clear to see that Ross isn't worrying about not making mistakes anymore, something that likely would have followed him throughout the rest of his career in Green Bay. He's aggressive and a weapon in the return game, someone who is a threat to make something happen every time he touches the ball.
He's the guy you kick away from, because you don't want him to return it.
So, what's the difference between Tim Masthay and Jeremy Ross? Easy: Masthay is a veteran and has earned the trust of the Packer faithful over time, so that a mistake made in a non-critical situation is easily forgiven. Ross was a young player who had no history but a ton of promise, who made a mistake at a critical time that blew up into something far bigger than what it was.
But the difference in the mistakes themselves? No difference at all, other than "context". Both led to turnovers and point differentials. I was told last week on Twitter that I didn't understand the context of the mistakes, that a player who makes a mistake in a high-pressure situation is different than a player who makes  a mistake when it doesn't matter.
Maybe I'm a little different from most fans, but I have trouble with believing that the mistakes themselves are any different because of the context.
But I do believe that how fans chose to react to both of these situations was very different, because of the context. It was a passionate response to Ross, with nearly every negative emotion magnified exponentially over the course of a long offseason filled with disappointment and anger. We created a goat, because we needed one.
Perhaps Tim Masthay will crash and burn again today, with the score in a divisional rivalry game much closer and with the Detroit Lions possibly able to pull away from us in the standings and playoff race. Perhaps then he will face the same vitriol as Jeremy Ross faced for making a mistake.
In the end, while I can never root for the Detroit Lions, I can root for a kid who I thought had the makings of a great returner. Ross is far better off in Detroit than he would have ever been in Green Bay. 
And maybe we should take a little pause the next time we want to create a scapegoat for our own frustrations with a team performance.  If we were all judged forever on our worst mistake at the worst possible moment in our lives, who could stand it? Who could live with it?  We'd never ask to be treated so irrationally by other human beings, or even put up with it.
So, it might be time to think about how we respond to mistakes made by individuals in what is supposed to be the ultimate team sport.  Sometimes the pitchforks and torches aren't needed as much as a second chance.
--------
C.D. Angeli is a longtime Packer fan and feature writer for CheeseheadTV. He is the co-host of CHeesehead Radio and the good cop over at PackersTalk.com. Follow him at @TundraVision on Twitter.