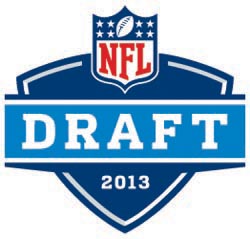 Everything—and I mean everything—gets too successful to bear it's own weight.
The NFL Draft may have reached that point.
Once upon a time, it was called "jumping the shark" but then all of us who watched "Happy Days" got old, so the wacky kids came up with "Nuking the Fridge".
Sometimes ridiculous things happen. Sometimes you have to shake your head and just move on.
And then someone gets propelled half a mile through the air in a fridge by an atomic bomb, emerging unhurt when it lands.
The fridge in the case of the NFL Draft could be a movie coming soon to a theater near you.
"Draft Day" stars Kevin Costner as the General Manager of the Cleveland Browns, who is frantically (one would assume) trying to trade up for the first pick in the NFL Draft.
Gripping, no?
I don't have you yet? How about if we add Jennifer Garner as a member of the front office (and, God help me, probably a love interest for Costner)? Or maybe Dennis Leary as the Browns' coach?
No?
Yeah I'm not sold either. Now, imagine that you and I, being we are here in April reading a football blog, are the hard-core audience. And you're probably not doing cartwheels about this movie.
Maybe I'm wrong, but I can't see all that much tension for the general audience. I think you could find it, you certainly can create drama from any situation and a Draft Day Warroom is a pretty tense place. If you can make salespeople gripping for "Glengarry Glen Ross", a decent writer should be able to make this concept fly as well.
On the other hand, the casting smells of "big budget blockbuster", I don't believe Ivan Reitman is a director to wrest great dramatic performances out of actors and I have doubts this cast is going to do much to lend weight to the proceedings.
As someone pointed out on Twitter, cast Denzel Washington and John Goodman as coach and GM, it's a very different movie.
It's too early to judge, but so far I'm not feeling confident we won't get an overly saccharin, forced drama movie which is going to very quickly become about anything BUT the NFL Draft.
Maybe that's a good thing in terms of how the movie would do at the box office. I know which movie I'd rather see, but I'm not representative of the audience a studio cares about.
Which brings us back to the beginning of this piece.
Is this the beginning of the end? Not to sound all "hipster" here, but if the NFL Draft has gone mainstream enough to where someone is making a movie about someone trying to trade up in the Draft, has it become too big?
Is there even such a thing?
While normally "nuking the fridge" is a sign something has become too big and bloated to sustain itself any longer, in the case of the NFL Draft, it's hard to imagine it slowing down at all.
This movie could tank and not slow the Draft down. If moving to prime time, stretching to three days, the advent of internet scouting and Gruden's QB school didn't trip the NFL Draft up—in fact only amping up the popularity—then even a bad NFL Draft movie probably won't either.
And you never know, it could be good.
Or....it could be this.